Special Events
We hope you will take advantage of some of these special events going on at AMP this year! Click on an event below for more information on the specific event. More information will be added as events are programmed. Note - some events, including the Advocacy Day, Guest Society Symposia, Social Event and MPOC, require registration in advance.
Tuesday, November 5
AMP will be hosting a forum to discuss genetic testing reference materials availability and needs (for test validation, quality control, and proficiency testing). Speakers will present a variety of current reference material development projects for molecular testing of inherited and acquired somatic genetic disorders followed by group discussion.

AMP Hands On Genomics with IGV Workshop (Separate Registration Required)
Tuesday, November 5

This practical workshop will utilize the widely used open source Integrative Genomics Viewer (IGV; http://software.broadinstitute.org/software/igv/, Broad Institute) in conjunction with real-world clinical cases to explore common problems and solutions encountered in clinical laboratory genomic testing with next-generation sequencing (NGS) panels.
AMP Advocacy Day (AMP Members Only) - Registration has closed.
Tuesday, November 5
Did you know that out of 535 Members of Congress, there are only 16 physicians and 0 pathologists or molecular professionals? AMP Advocacy Day 2019 is a great opportunity to describe the vital role you play in patient care, explain issues facing your clinical laboratories, and establish yourself as a trusted source for your elected representatives! No previous experience is necessary – if you have a willingness to speak on behalf of our profession, AMP will prepare you for productive meetings with your delegation.
AMP Advocacy Day is a limited-attendance, no-fee event, to be held on the Tuesday prior to the annual meeting (November 5, 2019). On AMP Advocacy Day, members will venture down from Baltimore to Capitol Hill for a full day of meetings with members of Congress and/or their staff.

Corporate Workshop Day
Wednesday, November 6, 8:00am - 5:00pm
AMP Corporate Workshop Day presents an opportunity for all AMP meeting attendees and the public at-large to learn from industry representatives about the latest scientific advances and equipment. This event is free and open to all. Take advantage of over eighty workshops hosted 8:00am - 5:00pm. Please note that Corporate Workshops are commercial activities. View the full disclaimer in the program book onsite.

Special Event: Advances in Predictive Biomarkers for Immune Checkpoint Inhibitors in Lung Cancer
Provided by Clinical Care Options, LLC
Wednesday, November 6, 6:30pm - 8:30pm (Reception/Dinner followed by Program)
Hilton Baltimore Inner Harbor, Holiday Ballroom 4-5
Join us for this engaging, CME/MOC-certified symposium, where a panel of both medical oncology and pathology experts will discuss optimal use of immunotherapy biomarkers in the treatment of patients with lung cancer.

Supported by educational grants from AstraZeneca,Bristol-Myers Squibb, Genentech, and Merck Sharp & Dohme Corp.
On-site registration available or go to: www.clinicaloptions.com/Baltimore2019LungIO
Molecular Pathology Outreach Course
(Separate Registration Required)
Wednesday, November 6, 8:30am - 3:45pm
This course is designed for pathologists, residents, laboratory directors and technologists who have some prior exposure to molecular diagnostic testing. The course features introductory information about the state of the science as well as a series of case studies illustrating some of the most current principles and practices in the field of Molecular Pathology. Attendees from all career levels will benefit from this staple offering.
Regsitration Note: You can register for the course as part of the Annual Meeting & Expo Registration. If you ONLY want to attend the course, please select the specific event on the events page.
AMP Trainee Networking Hour
Wednesday, November 6, 7:00pm - 8:00pm
Leinenkugel's Beer Garden at Power Plant Live (4 Market Pl, Baltimore, MD 21202)
All AMP Trainees are invited to the AMP Trainee Networking Hour! This is your chance to connect with other AMP trainees over great drinks at a local Baltimore bar. All registered trainees are welcome and will receive a ticket that they may use at the bar in exchange for a free drink! Your drink ticket will be included on your badge sheet when you check-in for the Annual Meeting & Expo.
AMP's "booth" in the Expo Hall centrally located between the poster boards! Come and visit the area to...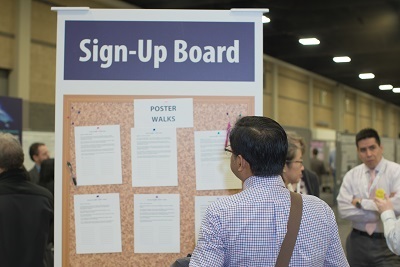 - Participate in "AMP Committee Meet & Greets."
- Learn about opportunities to Get involved with AMP.
- Visit our Job Board to see or post new opportunities
- Test Directory Demonstrations
- Tweetup during the Welcome Reception
… and more!
Thursday - Saturday (November 7-9), various times
Back by popular demand! This year's Innovation Spotlight Stages will provide a unique platform for exhibiting companies to showcase products or services as well presenting cutting edge AMP produced content. The TWO Innovation Spotlight Stages are stragetically located near main cross aisles in the back and left corner of the Expo Hall. Innovation Spotlight presentations are open to all Meeting Registrants and seating will be on a first come, first served basis. Schedules for this program are available in your meeting bag, on the Mobile App or on signage located outside the seating of each Stage.
Welcome Reception
Thursday, November 7, 5:45pm - 7:00pm
Please join us for the Welcome Reception and help to kick-off another successful Annual Meeting while networking with your friends and colleagues in the Expo Hall. This event is open to all registered Meeting Attendees.Guest Tickets will be available for $49/each. Be sure to indicate if you plan to attend when you register for the Annual Meeting & Expo.
Special Event: Expert Insights into Identifying and Treating TRK Fusion Solid Tumors in Adults and Children
Developed through the strategic partnership between the Association for Molecular Pathology (AMP) and Medscape.
Thursday, November 7, 7:00pm - 8:30pm (Dessert Reception followed by Program)
Hilton Baltimore Inner Harbor, Holiday Ballroom 4-5
Make your way up the escalators from the Welcome Reception and follow the signs to the Hilton SkyBridge to a free 60-minute, live, special education event, where faculty will highlight best practices in the identification of NTRK gene fusions, including current practice standards and how practice may change in the near future.
This activity is supported by an educational grant from Bayer.

To register for this event: https://www.medscape.org/sites/townhall/public/treating-trk

Training & Education Luncheon
Trainees, junior faculty and technologists: SEIZE this opportunity to speak to and network
with some of the best and most prominent players in the molecular pathology field! WIN valuable textbooks in the annual textbook give-away! EAT free food! JOIN US for this unique and valuable event!
For those interested in donating text(s) to be used at this year's trainee/tech luncheon event, a sincere THANK YOU! AMP can provide a tax deductible receipt for your contribution upon request.
The shipping information is provided, below (note the new address from previous years). Please arrange to have the books shipped to arrive on or before Monday, September 23rd.
Association for Molecular Pathology
Attn: Trainee Textbook Drawing
6120 Executive Blvd, Suite 700
Rockville, MD 20852 (USA)
Networking Corner/Speed Networking
Sponsored by the Membership Affairs Committee
AMP is a great place to meet, share ideas, and explore new opportunities. Join the us at the Networking Corner in the back of the Expo Hall to build new connections and network with the AMP community. You might find a new boss, collaborator, employee, troubleshooter, mentor, scientist, enthusiast, inspiration, advocate, motivator, travel guide in a new city, admirer, colleague, or just a new friend. During lunch on Friday (12:30 – 1:00 PM) and Saturday (12:30 – 1:00 PM), this space will feature speed networking sessions. Speed networking is simply a format to encourage greater interaction. The key is to come, start a conversation, then connect and follow up after. All you need to bring is your business cards and a willingness to meet someone new.

TIMES:
Friday, Lunch, 12:30 – 1:00 PM
Saturday, Lunch, 12:30 – 1:00 PM
Business Meeting and Awards Session
Friday, November 8, 5:15pm - 6:30pm
AMP invites all Meeting Attendees to attend the AMP Business Meeting and Awards Session. Come hear how AMP is working hard to help you advance patient care. A number of awards, including the Young Investigator, Technologist and the Jeffrey A. Kant Leadership Awards will be presented at this session.
Amazing Molecular Party (25th Anniversary Celebration)
(Separate Registration Required)
Friday, November 8, 7:00pm - 10:30pm
Known as the AMP Social Event, this year the "Amazing Molecular Party" will facilitate networking opportunities between trainees, new, and long-standing AMP attendees. There will be mingling, dancing, amateur acts and great food and surprises! Attendees who purchased tickets when registering for the meeting will receive their ticket when they check-in at the registration desk for their name badge. If any tickets are still available for sale, they may be purchased at the Registration Desk.
$30 Trainee (Fellow, Resident, Student) Registrant
$55 Non-Trainee Registrant
$55 Guest of Registered Attendee
$120 Non-meeting Registrant
Please indicate if you plan to attend each event when you register for the Annual Meeting & Expo.