Single day passes to the meeting are available for purchase on-site at the registration desk. The cost of a one-day pass is $395.
Discounted single-day passes to visit the Expo Hall are available at a discounted rate for Technologists working in Maryland and surrounding states (MD, DC, PA, DE, VA). These passes are available for purchase on-site at the registration desk. The cost of these passes is $59. You must bring a signed letter from your supervisor regarding your position as a technologist in order to claim this special rate.
We accept the following payment types: credit card, check and wire transfer. The Online Registration System allows credit card payments only. If you would like to pay by check or wire transfrer, you must complete and submit the PDF Registration Form. An invoice will be created and a receipt will be sent to you for your records. Note: registration is not confirmed until full payment has been receieved.
If you have any questions, please contact amp@amp.org.
Cancellations
Cancellations received by written notification to amp@amp.org. through October 1 will receive a refund (less a $100 processing fee). No refunds after October 1.
Social Media Policy
We encourage the use of social media for professional networking purposes before, during and after AMP 2019. Attendees are also invited to share insights from presentations provided that they are respectful of the presenter's wishes: if slides or posters indicate that photos are not permitted, attendees must refrain from taking pictures and sharing on social media. To ensure that everyone has a positive social media experience, please adhere to these guidelines:

Do:
· Follow AMP on Twitter @AMPath like us on Facebook and/or join our LinkedIn group
· Use the #AMPath19 and #AMPlifier hashtags to join the conversation and get the latest annual meeting updates
· Post about what you discover at the meeting
· Share your knowledge and insights
· Be respectful and courteous to your colleagues
· Have fun!

Don't:
· Post inflammatory, disrespectful or otherwise inappropriate comments
· Take/share photos of slides or posters without permission
· Post copyrighted/trademarked/embargoed materials
Photography Disclaimer
Registration and attendance or participation in AMP meetings and other activities constitutes an agreement by the registrant to allow AMP to use and distribute the registrant or attendee's image or voice in photographs, videotapes, electronic reproductions, and audiotapes of such events and activities.
Code of Conduct: Registration and attendance at or participation in AMP meetings and other activities constitutes an agreement by the registrant to follow AMP's Code of Conduct.

Privacy Policy: By registering for or participating in the 2019 AMP Annual Meeting & Expo, you are consenting to use of your personal data by AMP and designated third party services providers (e.g., housing and registration companies) for administrative activities necessary to conduct the meeting; and, to being contacted by AMP, by designated third party service providers, and by exhibitors and sponsors. Exhibitors and sponsors are provided mailing addresses only, not email addresses, phone numbers, or any other data collected by AMP. Each third party will act as a data controller in relation to the data you or AMP supply to it and its own privacy policy will govern that third party's use of your personal data. If you have any questions or concerns, please contact meetings@amp.org.
Lost/Replacement Name Bages
If you lose your Name badge, you can have a replacement badge printed for $20. Please visit the Registration Desk at the Convention Center for assistance.
If you have a disability that will impact your participation in the meeting, please notify us during the registration process or contact us via email at amp@amp.org. Notify us as early as possible so we can ensure the availability of appropriate accomodations.
The target audience for the AMP 2019 Annual Meeting & Expo is clinical practitioners/physicians, research scientists, medical education professionals, laboratory managers and supervisors, clinical laboratory scientists/medical technologists, students and postdoctoral fellows/residents with an interest in diagnostic, prognostic, and therapeutic approaches in molecular pathology.
Welcome Reception
The Welcome Reception (Thursday, November 7th) is open to all registered Meeting Attendees at no cost. Guest Tickets will be available for $49/each. The Welcome Reception will be inside the Exhibit Hall.
AMAZING MOLECULAR PARTY (Social Event)
The Social Event (Friday, November 8th) requires separate registration. Please join us for dinner and dancing! Space is limited, so please make sure you get your tickets early!
$30 Trainee (Fellow, Resident, Student) Registrant
$55 Non-Trainee Registrant
$55 Guest of Registered Attendee
$120 Non-meeting Registrant
Please indicate if you plan to attend each event when you register for the Annual Meeting & Expo.
Please refer to the Special Events page for more information.
Celebrate AMP's 25th Anniversary by getting your own AMP Vest for just $39! This stylish vest is available in various sizes for Men and Women. Color is black. Pre-Order sales have closed. We will have a limited number of vests available onsite. For size information click here.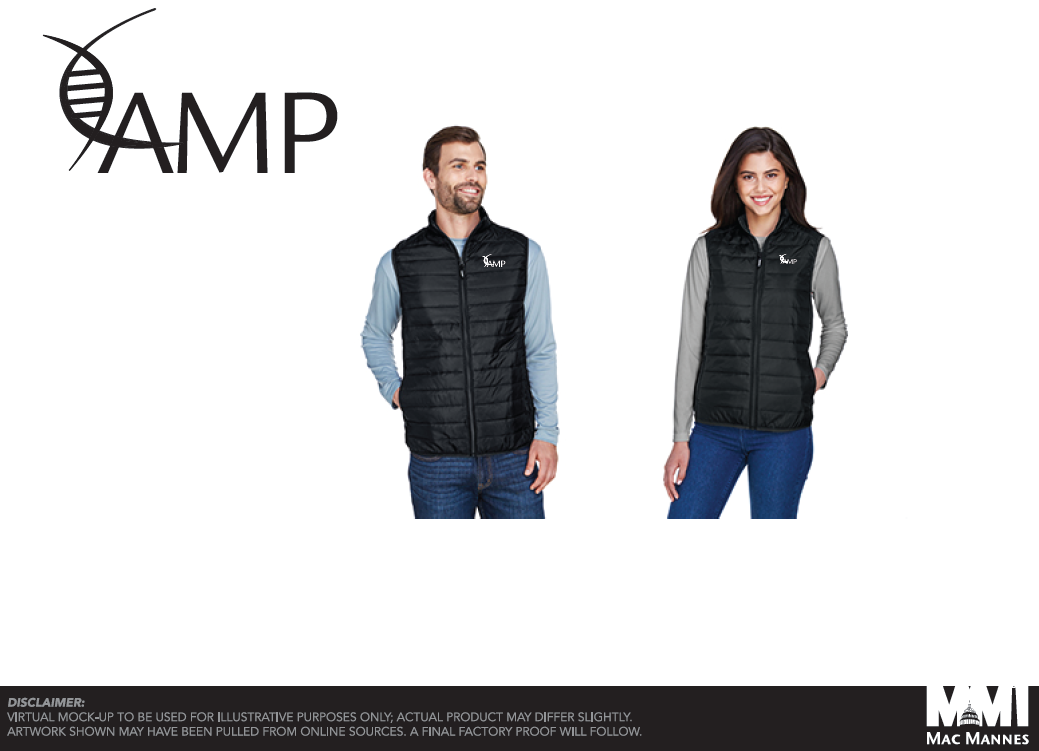 Note: All vest sales are final and cannot be returned or exchanged.
AMP welcomes members of the media to attend the AMP 2019 Annual Meeting & Expo. Visit the Media page for registration and details. Visit the Media page for registration and details.